Chapter 1

Download RStudio & Basics of R
1.1

Setting up RStudio
Why use R for data visualization?
R is free.
Often, less codes are needed in R to plot an elegant graph.
for/while loops (basic concepts in programming) are not necessary in R to make a production-quality graph.
R is the best software for statistical analysis.
Other available resources for R
Download requirements for RStudio
Open RStudio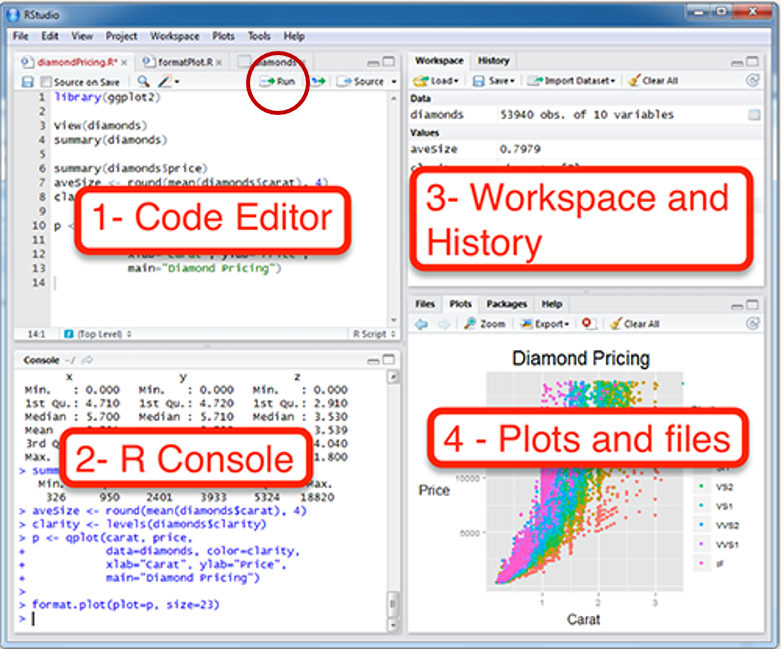 Rstudio is where people do R programming.
You can type codes (commands) into the console (bottom-left panel).

> means that the console is ready to receive more code.
+ means your code is not complete.

You can also write (longer) codes in the script within the code editor (top-left panel).

The code editor will run the script into the console.
A new script can be opened by clicking: File -> New -> R Script.

You can run a script by clicking 'Run" with the green arrow or by typing ctrl + enter. It is labeled with the red circle.

Or you can just type your codes directly into the console.
Let's make a folder and set it as working directory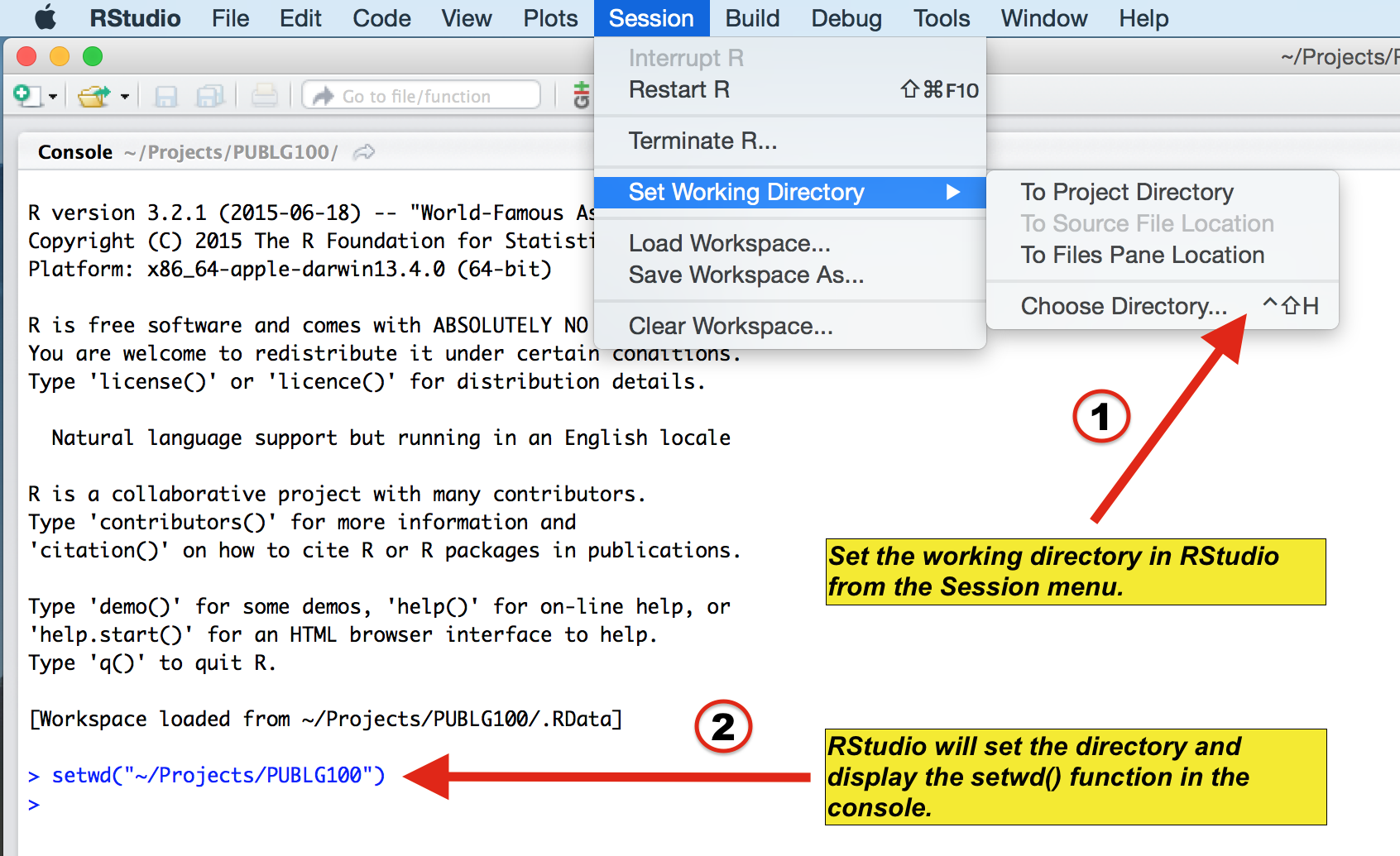 1.1.1

How to run your code
You can run code in 2 ways.

First, you can type it in the script and run it after highlighting the codes you would like to run.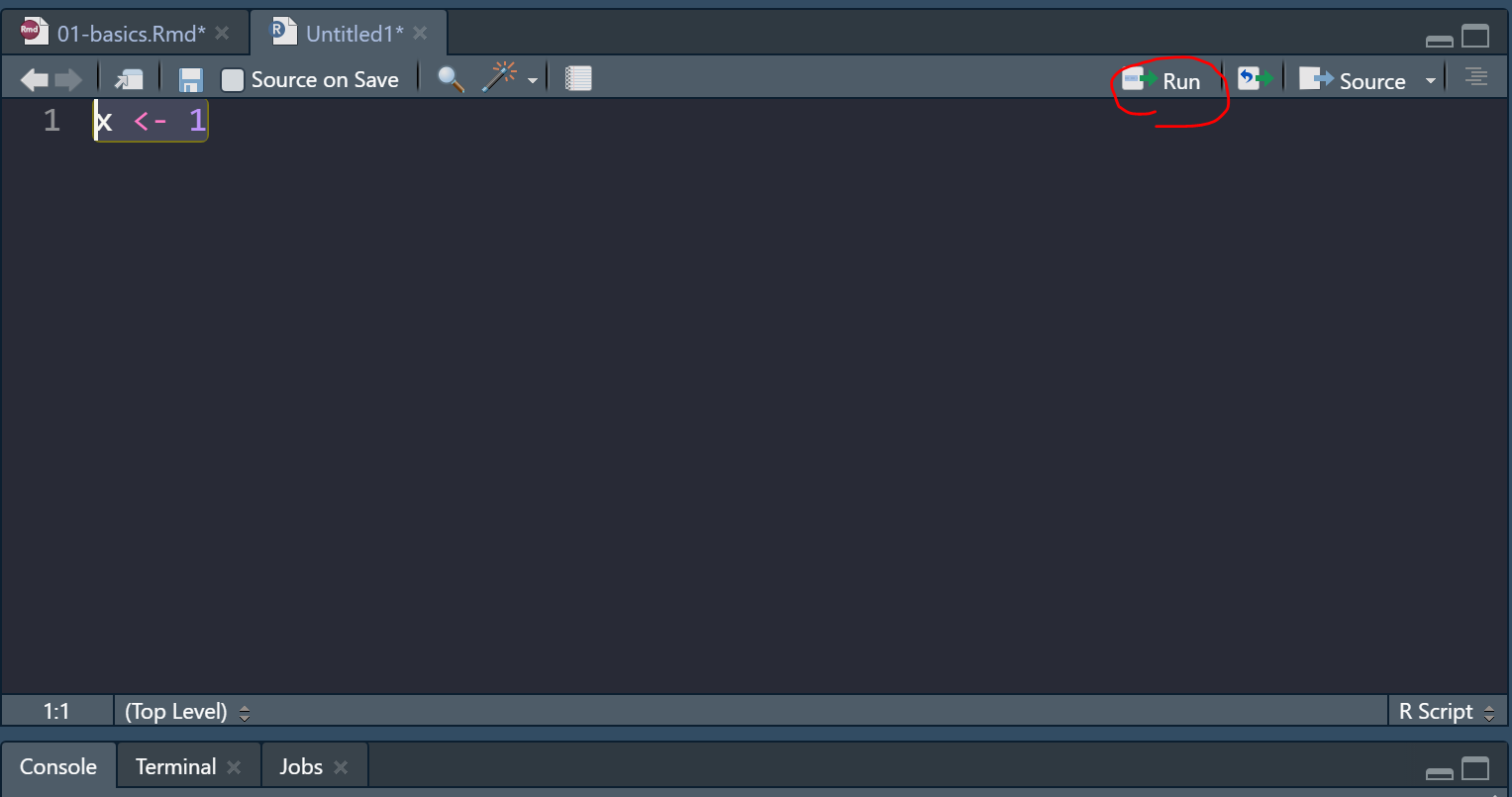 Second, you can type your code directly in the console.

1.2

Basics of R
Let's type some codes
Capitalization, punctuations and brackets are all important.
' ' and " " mean the same.
However, ' " are not paired. So they will not work.
= and <- mean equivalent.
Type ? when you are not sure about the code (ex. ?t.test)
A code becomes comment when it is preceded by #.

Try typing # g = 3 and see if the number gets stored in g by typing g in the console.
=

 

3

 

# x equals to 3


 x 

<-

 

4

 

# a equals to 4 


 a 

<-

 

'Group'

 

# gr is equal to a character 'Group', which is not a number.


 d 

<-

 

"Group"


 e 

==

 e 

# 'Group' and "Group" are equal

d 
## [1] TRUE
Notice that I used == to test if d and e are equal. Therefore, == and = mean different. == tests if two things are equal. = sets two things to be equal.

d == e returns TRUE because they are both 'Group'. TRUE is equivalent to 1 numerically.

Now let's check if x and a are equal.
## [1] FALSE
It returns FALSE because x and a are not equal. This is correct because 3 and 4 are not equal. FALSE equals to 0 numerically.

Below are more examples showing that TRUE = 1 and FALSE = 0.
## [1] 1
## [1] 2
## [1] 0
## [1] 2
## [1] 0
How can I learn most effectively with the notes?
Don't just read it.
Don't just copy and paste the codes and run them in RStudio (ctrl + c & ctrl + p). Make sure you type each code.
You can also change your code and see if it still works.
If you are not sure of your code, you can type ? before the function.
If you are still not sure after reading the notes, check out Chapter 3 of R for Data Science: https://r4ds.had.co.nz/
More installation
R is an old programming language.
So, people, such as statisticians and programmers, have created more functions in R in the form of the package to update the language. They are free but they have to be downloaded separately.

A package can contain several functions.
In this tutorial, you will mainly be using ggplot2 package, which is elegant and flexible for visualizing data.
Also, you will be using smplot package. It improves ggplot2 graphs visually.

So, you will need to install some packages, such as ggplot2 and smplot. Please type the codes below.
install.packages

(

'devtools'

)


::

install_github

(

'smin95/smplot'

, 

force =

 

TRUE

) 

# requires VPN if you are in China

devtools
You only need to install them once, but you will need to reload them whenever you start a new session in RStudio using the function library().
install.packages

(

'tidyverse'

) 

# only need to install once




install.packages

(

'cowplot'

)
# packages must be loaded every time by using library() when you run your script





library

(tidyverse) 

# it has ggplot2 package




library

(cowplot) 

# it allows you to save figures in .png file




library

(smplot)
Now let's make some graphs in the subsequent chapters.